Dear friends!
I want to recommend you elegant and very comfortable fabric backdrops which I enjoy using myself.
This is a really great way to quickly turn absolutely any location into a stylish space for photography, video shooting or live streaming. Yes, you will need more tripods, lights, a camera, an idea, a plot, and a person who can eat into head and talk out of it, but these are small things compared to "solving" the space.
I like that the colors of the backdrops are chosen in tones that do not need to be refined in Photoshop, they are already good. The textures of the backdrops are unique and not replicated, each backdrop is one of a kind. This is very nice if you care about your own style.
My advice is not to chase the biggest sizes. Small backdrops can themselves become part of the frame composition. Plus several backdrops opposite each other look very good, as well as when the edges or attachment points fall into the frame.

The prices are very affordable, however, since you have carefully read all this, I give you the opportunity to get a 10 PERCENT DISCOUNT.
It's very simple-write to any of the contacts and say that you are
from Ilya Rashap.
Delivery — to any country in the world.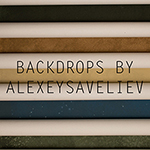 Site: backdrops-canvas.com



   Phone: +7 (911) 091-56-28